Are you looking for Wheel Balancing for your vehicle?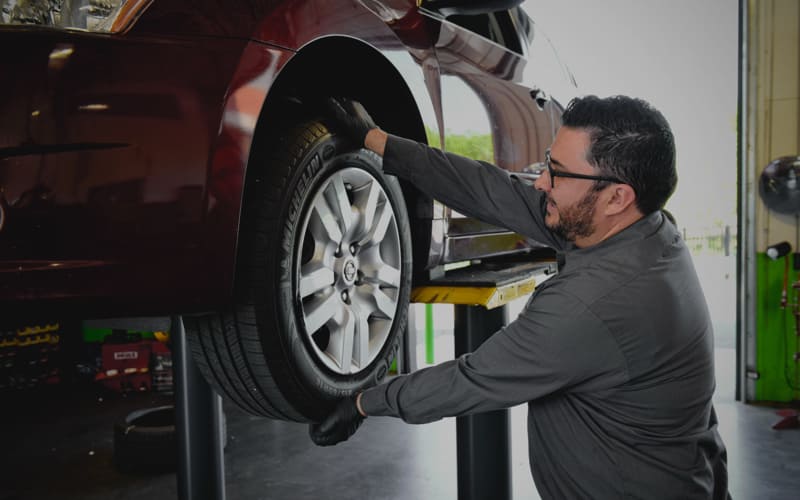 Maintaining accurate weight distribution across your vehicle's wheel assembly is essential to receive optimum on-road steering precision and control. Deviation of even an ounce can result in juddering and wobbling wheels, causing significant discomfort while driving 50 mph and over.
CVS Tyres Ltd. is a professional car workshop offering accurate wheel balancing Peacehaven. Our facility is equipped with modern equipment to help our experts detect any imbalance and correct it accordingly.
Car experts recommend opting for a routine wheel balancing check every 5000 – 6000 miles to continue enjoying superior vehicle control and on-road safety.
Why is wheel balancing essential?
Car wheels and tyres often come with minute weight distribution discrepancies. For example, a tyre's stem valve hole causes one side of the tyre to weigh slightly more than the other. Moreover, the joining point of cap piles in new tyres can also result in an imbalance in tyre weight distribution.
These affect uniform tyre and wheel revolution, compromising tyre service life and your vehicle's fuel efficiency as well.
Factors responsible for an imbalance in wheel weight distribution
Imbalance in wheel weight distribution can be a result of:
Inaccurate tyre pressure
Manufacturing defects
Driving at high speeds through potholes or over speed bumps etc.
Wheel rim corrosion
Damage in suspension parts
Common indications of unbalanced wheels
Odd vibrations in the steering wheel or car floorboard
Compromised mileage
Diminished acceleration rate
Reduced car control
Juddering
Compromised steering wheel precision
It is imperative to opt for a professional workshop like ours for wheel balancing Peacehaven if you come across similar issues with your vehicle.
Wheel balancing at CVS Tyres
An overview of the wheel balancing procedure at our facility is given below:
First, CVS experts will dismount the car wheels (the tyres stay on the wheels) and put them on our modern wheel balancing machine.
Then, this machine will rotate the tyre at a pre-determined high frequency to help identify possible discrepancies and required adjustments.
Next, in our procedure of wheel balancing Peacehaven, our technicians will restore wheel assembly weight distribution by attaching so-called counter weight to the wheels at exactly the point of imbalance.
The wheels will then be fitted back onto your vehicle
Benefits of wheel balancing
Improved car control
Increases tyre service life
Restores your vehicle's fuel efficiency
Helps maintain your car's suspension system health
Why CVS Tyres?
We maintain an affordable and transparent pricing policy for wheel balancing Peacehaven.
Our wheel balancing experts can work on every vehicle make and model, helping us serve an extended clientele.
Visit CVS Tyres
End your search for "wheel balancing near me" in and around Peacehaven with CVS Tyres. We are located at Unit 11, Farrington Enterprise Estate, Hoyle Rd, Peacehaven BN10 8LW.
You can reach out to our experts for any other related information by calling us on 01273 307831. We will always be happy to help.