Are you looking for All Season Tyres for your vehicle?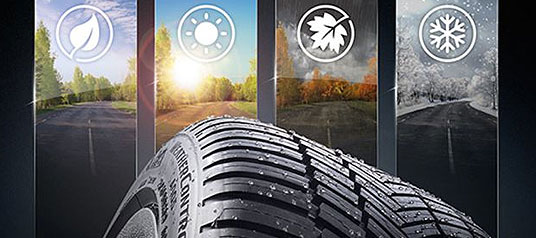 Seasonal tyre replacements can be a costly affair, so we stock all-season tyres, which are cost-effective and help buyers to save time and money on swapping their vehicle's tyres twice a year.
At CVS Tyres Ltd., we take pride in our expansive inventory of all season tyres Peacehaven available for all vehicle makes and models. Moreover, the tyres we house go through extensive quality checks to ensure your driving safety and satisfaction.
Our stock includes the following brands-
Continental
Bridgestone
Pirelli
Dunlop
Michelin
Goodyear
Churchill
Yokohama and many more
To buy all-season tyres at affordable rates, please visit our shop. We are located at Unit 11, Farrington Enterprise Estate, Hoyle Rd, Peacehaven BN10 8LW.
Buy all season tyres Peacehaven online
You can now also opt for our online tyre sale facility. First, provide your car's tyre size details or registration number in the tyre finder tool. Then, browse through our catalogue and order tyres according to your preference. With your order you can also pre-book a fitting appointment.
Features of all-season tyres
All-season tyres provide the right balance between the features of both summer and winter tyres. Hence, their unique features ensure optimum driving comfort, safety, and improved handling performance in mild weather conditions all-year-round.
So, what are the unique characteristics of all season tyres Peacehaven?
Moderate tread depth
These variants come with moderate tread depth, which helps in better vehicle handling in moderate weather conditions.
Longer tread life
Because of the deeper tread pattern, these tyres are built to last longer when compared to summer or winter variants.
Works excellent in moderate winter conditions
All-season tyres are designed to perform well in mild winter conditions. These variants provide optimal traction on wet and snowy roads. However, these models are not suitable for extreme winters.
Works well during mild summers
These tyres come with moderate tread depth and long tread life designed to provide optimal grip and comfort during mild summers.
Benefits of opting for all-season variants
On buying all season car tyres Peacehaven, you will experience the following benefits:
No need for a seasonal tyre change, thus saving money and time
The best option for areas that experience moderate winter and summer seasons
Longer tread life
Economical choice for an occasional driver
Mobile Tyre Fitting
Furthermore, we offer mobile tyre-fitting services at any of your preferred locations within our range of operations. Simply select a slot at your convenience. We will send our tyre specialists with all the essential tools required to fit the units precisely. As a standard practice, our technicians will also balance your vehicle's wheels for maximum driving safety.
Therefore, we are certain we can put an end to your "tyres near me" searches.
For any queries, reach us on 01273 307831 or at cvs.tyres@hotmail.co.uk.