Are you looking for Tyres Size for your vehicle?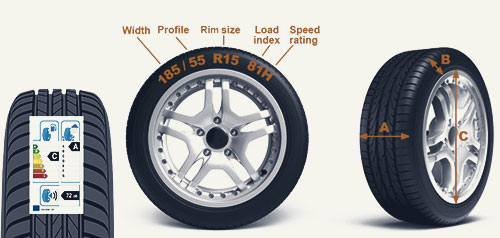 The size of your car's tyres is decided by its manufacturer after considering several crucial factors. Hence, if you plan to buy car tyres Peacehaven, you must purchase the right-sized model to enjoy a safe car handling experience.
Do you find it difficult to understand the complex alpha-numeric size code embedded in the tyre's sidewall?
Turn to us- CVS Tyres Ltd
We are a trusted retailer of car tyres Peacehaven and offer you a great collection to choose from. Our inventory consists of tyre models within a size range of 14''-22''. We also help our clients understand the exact tyre size needed for their vehicles so that they can make an informed decision.
Understanding tyre size
The complex alpha-numeric tyre size like- 185/60 R14 82 H entails several specific details like the load index, maximum speed limit, load-carrying capacity and more.
Let's understand the elements of the size code in detail:
185- Number 185 in the given code reflects width of a tyre. It is measured in millimetres.
60- Next, number 60 represents tyre's aspect ratio. It is essentially the profile height of a tyre measured in percentage of its width.
R- Letter R reflects the type of tyre construction. In this case, it is radial construction.
14- Number 14, in the above code, represents rim diameter of the tyre. This is measured in inches.
82- The corresponding number 82 entails load index of the tyre. It is the maximum load this tyre can carry when fully inflated.
H- Finally, letter H indicates speed rating of this particular tyres model. Speed rating is the maximum speed the tyres can sustain.
We hope you have found this information helpful.
Buy tyres Peacehaven from us
It is extremely crucial to choose the right tyre size for your vehicle.
This is why we have done our best to make it extra easy to order the right tyres at the right size. Please have a closer look at our website and use our tyre finder section.
We are your one-stop solution for all "tyres near me" searches in Peacehaven and the surrounding area.
For help and advice, just come to see us or give us a call on 01273 307831.