Are you looking for Wheel Alignment for your vehicle?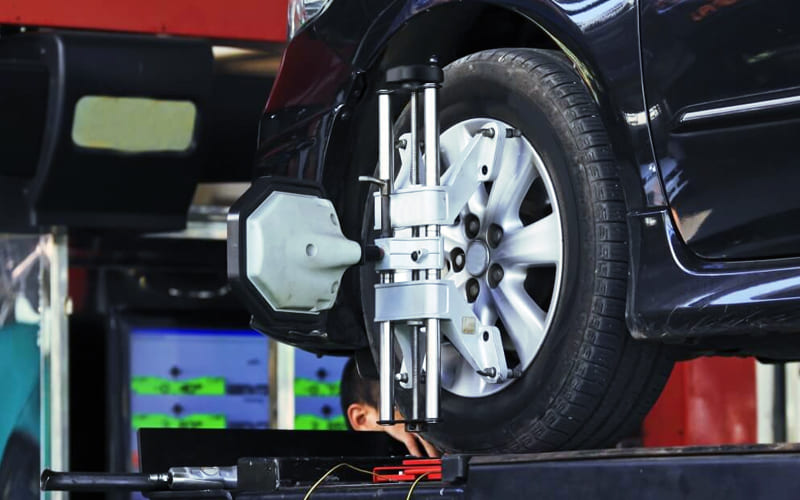 Accurate wheel angles are instrumental in continuing to receive optimum car control and on-road performance. Misaligned wheel angles can result in wheel damage and reduced fuel efficiency, among others.
This is why experts recommend checking the wheel alignment of a vehicle every 5000 – 6000 miles or at least once every 6 months.
CVS Tyres Ltd. is a reliable car workshop offering affordable and accurate wheel alignment Peacehaven. Our experts use state-of-the-art equipment to ensure maximum precision and efficiency.
Symptoms of faulty wheel alignment
Erratic fuel efficiency
A vibrating car steering wheel
Difficulty in maintaining stability while driving in a straight line
Reduced cornering precision
Uneven wear of car tyres
Searching for a professional "wheel alignment garage near me" is a recommended course of action if you notice any of the aforementioned symptoms in your vehicle.
What do our experts inspect?
Our comprehensive wheel alignment Peacehaven will include:
Caster: This is the steering wheel axis when you view it from the car's side. The caster angle accounts for directional stability and steering precision.
Camber: This angle refers to the outward or inward angle of your car wheels when viewed from the front. Ideally, the camber angle should align with the centre of your car wheels.
Toe: Our experts will also check your vehicle's toe wheel angle. It refers to the angle at which your car wheels go toward or away from the centre line from a bird's eye perspective. A faulty toe angle will increase stress on the wheels, causing them to judder, affecting traction and manoeuvrability.
Causes of misaligned wheels
Common reasons leading wheel angle deviations are:
Driving on unpaved roads frequently without necessary modifications
Faulty car wheel fitting
Driving over speed bumps or through potholes at high speeds, hitting curbs etc.
Worn-out suspension parts
Inaccurate tyre pressure
Why opt for CVS Tyres?
We maintain an affordable and transparent pricing policy with no hidden charges for wheel alignment Peacehaven.
Our experts use the latest alignment technology to accurately restore your car's wheel angles.
You can seek expert assistance during business hours by calling us on 01273 307831.
You can certainly also come to us directly. You can find us at Unit 11, Farrington Enterprise Estate, Hoyle Rd, Peacehaven BN10 8LW for a professional.
Wheel alignment Peacehaven - CVS Tyres!